916.788.2884
2250 Douglas Blvd., Suite 150
Roseville, CA 95661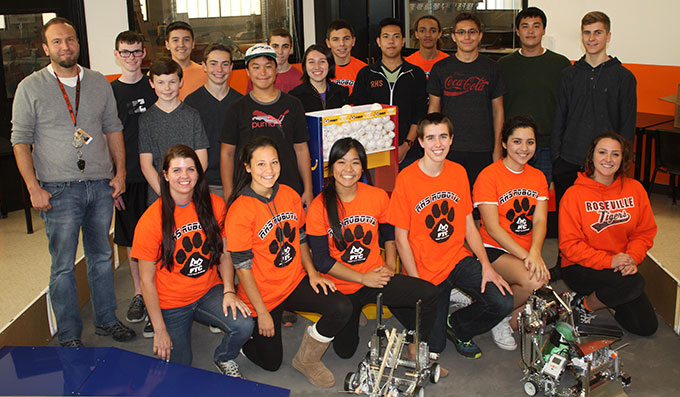 A Partner Every Step of the Way
RSC Engineering Donates $1,000 to Roseville High School Robotics Program
Donation Marks Engineering Firm's 10th Anniversary
Roseville-based RSC Engineering celebrated their 10th year in business by giving back to their local community. The award-winning civil engineering firm made a $1,000 donation to Roseville High School's Robotix, Engineering, Science and Technology (REST) Club.
Underscoring this gift is the firm's extensive history of partnership with over two dozen local nonprofit organizations and causes. By donating to a local Science, Technology, Engineering and Math (STEM) club, RSC is contributing to the school as well as working toward their mutual goal of educating future engineers.
"I believe community involvement is the responsibility of any successful business. By helping to give students what could be their first tangible experience in science and technology, we're hoping to further their interest in the field and encourage an education and career in engineering," commented RSC Engineering President, Richard Chavez. "My career has been very rewarding and I want the same for these students."
The REST Club introduces students to robotics concepts and applies them to regional and national competitions. Each week, students practice designing, building, programming and controlling robots to perform specific tasks.  Club Advisor John Fuller uses donations to defray the many costs to the club such as robot batteries, parts and controllers, computers and CAD software, tools, programming licenses and registration fees.
"To make this club relevant for the students, we engage in projects that require real-world skills in problem-solving, organization and team-building. Unfortunately, those projects also come with real-world costs. Donations from generous companies like RSC Engineering enable us to continue toward our goal of preparing these kids for the workplace of the near future," Fuller notes.
RSC Engineering's project portfolio includes such acclaimed projects as the recently opened Rocklin Commons and Rocklin Crossing Shopping Centers, Morgan Hill Retail Center, Douglas Office Park, Kimball High School in Tracy, and SMUD Operations Center in Sacramento.
RSC is a full-service civil engineering firm located in Roseville, California.  Specializing in creative solutions for challenging projects and changing environments, RSC works in the public and private sectors providing civil engineering, site planning and surveying for commercial, industrial, school and residential projects in Northern California.