916.788.2884
2250 Douglas Blvd., Suite 150
Roseville, CA 95661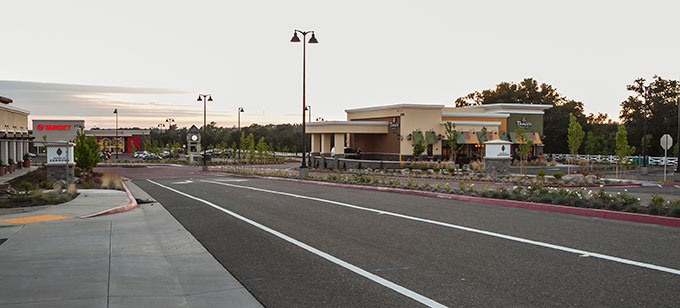 Rocklin Commons Shopping Center, Rocklin
The Rocklin Commons site incorporates many interesting design features, such as: lightbox triptych/pictorial signs along Granite Drive showing historical City of Rocklin features, onsite plaza areas, outdoor dining facilities, a fireplace pavilion, meandering walks, walkway trellises, rockery and masonry block retaining walls, decorative fencing, embellished paving, and unique project entry signs.
The project features Target as an anchor tenant of the center, with 4 major anchor pads and 15 other shop/pad buildings. Owned, developed and managed by Donahue Schriber, the retail center will also house a Studio Movie Grill, Chipotle, Noodles & Company, Subway, Supercuts, Panera Bread, Stein Mart, Pacific Dental, and several local retailers and restaurants.
Rocklin Commons shares the junction of Interstate 80 and Sierra College Boulevard with the even larger Rocklin Crossings, another retail center developed by Donahue Schriber across the freeway. RSC Engineering partnered with the developer to provide civil engineering services for both projects.
RSC Engineering supplied the entire parking lot and infrastructure design for both retail centers, including pedestrian and vehicular links to the existing roadways, two miles of offsite water main, and offsite intersection improvements/upgrades in the City of Rocklin and the Town of Loomis. As part of the Rocklin Commons project, RSC also prepared construction documents for a storm water detention basin.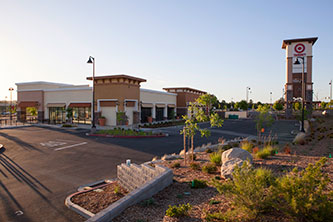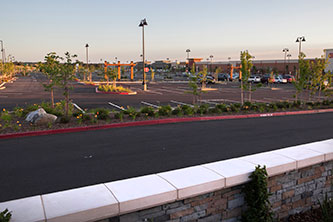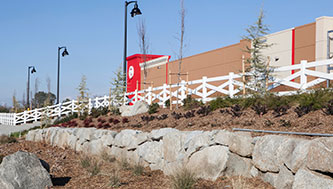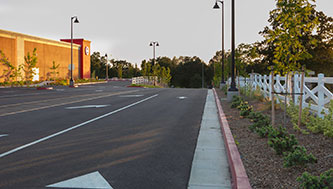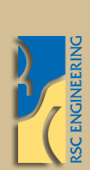 Project Description

Client: Donahue Schriber Realty Group
Parcel Size: 39.1 acres
Building Size: Approved for 398,000 SF
The Rocklin Commons project presented a number of unique challenges. Several issues centered around grading and drainage. The site's previous use as a borrow area for the Sierra College Blvd./I80 Interchange meant addressing draining and filling the borrow pit in the design and construction sequencing. Likewise, exporting the rock was neccessary to properly fit the completed project into the surrounding elevation constraints and partially address the significant volume of rock excavation required for the project.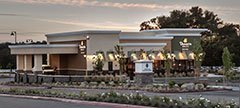 Retaining walls were incorporated along the boundaries of the property to offset existing terrain and natural contours, as well as used within the site to maintain existing Placer County Water Agency (PCWA) 20-inch water and 18-inch irrigation lines at current elevations to avoid relocating lines and disrupting service. Retaining wall alignments were adjusted to save multiple oak trees.
The Rocklin Commons retail center included an onsite detention pond. The pond's location was established to maximize usable land for the project and minimize costs for the underground storm drain system. The site also incorporated a drain system that directly routes storm water runoff from the interstate through the property without conflicting with new improvements.
Frontage improvements associated with this project included intersection enhancements, a new traffic signal, and a turn out for a future transit bus route at the project site driveway on Granite Drive. Offsite intersections were improved including Rocklin Road and Sierra College Blvd.
RSC Engineering provided comprehensive engineering services including:
Preparing preliminary site, grading and utility plans for the planning process
Assistance with the planning and EIR process
Preparing opinions of Cost and fee estimates
Preparing full onsite and offsite construction documents including project specifications and bid documents
Coordinating and processing plans through the City of Rocklin, South Placer Municipal Utility District, and Placer County Water Agency
Obtaining site work approvals and permits
Assisting with construction administration/management services
Preparing tentative parcel map and the final record parcel map