916.788.2884
2250 Douglas Blvd., Suite 150
Roseville, CA 95661

A Partner Every Step of the Way
Description:
Looking for a chance to grow as a civil technician with a company that values your input and fosters learning, personal development and leadership? We might have a job for you.
With over a decade of experience, RSC Engineering Inc. specializes in site development, primarily retail, office and industrial. We currently have numerous projects in Northern California and are actively seeking a mid-level civil technician to join our team.
Mid-level technicians have the opportunity to interact with public agencies, team members and clients. RSC Engineering Inc. is a unique, cohesive company where management supports employees and capable technicians are given the opportunity to grow and increase their level of responsibility.
RSC offers numerous benefits including: Simple IRA, medical, dental and vision plans, added vacation time after five years of employment and a great working environment.
Employee bonuses cannot be guaranteed, but RSC's philosophy is to financially reward employees for a job well done.
Qualifications for a successful candidate include: 3-4 years of drafting experience and a strong background in AUTOCAD Civil 3D 2016. The candidate should be a team player with good communication skills.
Mid-Level Technicians report to Project and Managing Engineers. Technicians are primarily responsible for preparing construction documents and performing calculations.
Compensation: DOE
If you are interested in joining our team, please email your resume with a cover letter to info@rsc-engr.com or fax to 916-788-4408.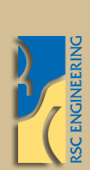 Now Hiring:
Mid-Level Civil Technician
Thank you for your interest in a career with RSC Engineering.